"THE HEART OF OUR LINE OFFERS ELEVATED ESSENTIALS AND MODERN CLASSICS THAT ARE STACKABLE AND STANDALONE, STATEMENT AND REFINED, GLAMOROUS AND UNDERSTATED. KBH JEWELS IS CREATED FOR AN AUDIENCE THAT PRIORITIZES MODERN BEAUTY AND ETHICALLY CONSCIOUS MATERIALS ALIKE. EACH STYLE IS INSPIRED BY THE SPIRIT OF WOMEN - EQUALLY STRONG AND POWERFUL AS THEY ARE GENTLE AND PRETTY."
— Kimberly Berry Haisch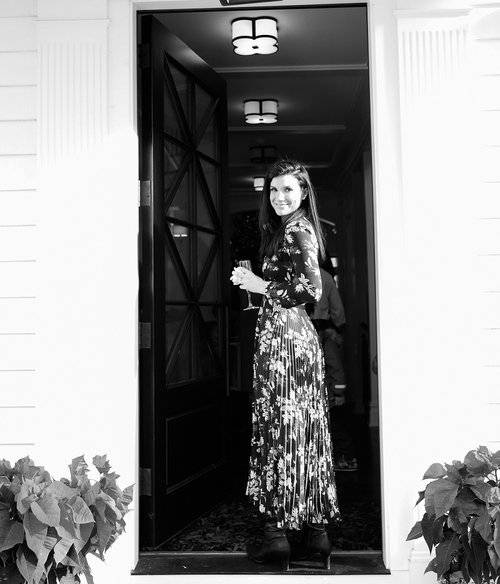 MOTHER. DAUGHTER. WIFE. SISTER. FRIEND. PROTECTOR.
All of these facets of Kimberly Berry Haisch's life serve as inspiration for KBH Jewels, as they are the parts of her that are most valued and important. Her unwavering desire to hold onto the traditions fostered by her parents while advocating for a world that she could confidently pass on to her children has inspired Kim to marry tradition and sustainability through the KBH Jewels Collection.
Born in the suburbs of New York City, Kim was immersed in culture and sophistication while engaging in family traditions that made her house a home. Combine the sharp and exacting eye of her mother with the effortless style of her "muse" father and Kim created a lifestyle all her own, complimented by her husband, Rob, three children, and dog.
MEET THE FOUNDER
After I had my own family, I started to think about what my legacy would be. I was spending time with my mom resetting jewelry on 46th and 47th streets in Manhattan and going to shows, when I was reintroduced to lab diamonds. I didn't understand why this sustainable option for real diamonds wasn't more widely known or available, especially in the pieces that I wanted to wear everyday and eventually pass onto my kids. That is when KBH Jewels was born.
Investment worthy pieces should be both luxe in material and sustainably made. A consumer shouldn't have to compromise on either. I wanted to create jewelry that serves as beautiful modern heirlooms, pieces that can be passed down to future generations. It is all about doing something for the world that my children are going to live in and eventually share with their own families. That is tradition; that is part of our legacy. Family, tradition and incorporating circular practices and sustainable materials are at the heart of everything we do and embedded into the fabric of our story. The jewelry that KBH produces is made from 100% reclaimed gold and cultivated diamonds. We are unmined. Everything that KBH produces, supplies and ships - from jewelry to packaging - is sourced from ethical, sustainable and reclaimed methods.